Vin and Wine's Tastings...
42 years of passion.
In Quebec, Ontario. Montreal & Regions.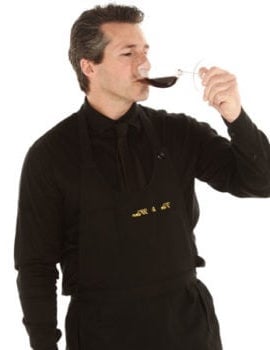 Dany,
wine professional
42 years of experience and passion at your service! 🤗
My first wine tasting dates back to 1981. Since then, I have toured the wine world; 88 countries, 5 continents, including 6 years in France, until 2011.
My experience and knowledge as a sommelier, winegrower, oenologist and wine merchant, allow you to more easily understand wine as a whole, and to better assimilate into your daily life the tips and tricks that I will be sharing with you.
If with all my stories, passion and knowledge, I can't impress your guests, it's free. 🥰



8,000+
Vin & Wine Club members
Our FREE mobile app...

All Vin and Wine knowledge in your pocket!
None of your guests will leave empty-handed. We've packed all the info, for them, into a free and accessible mobile app.
Participants often told us: "Dany, your suggestions are very nice; choose your wines better and appreciate them, we agree. But don't you just have a wine list to suggest to us?"
Human nature being what it is in 2017, we invented a mobile application, unique in the world, that allows you to know and order the best wines directly from the vineyard!
Download it now, it's free! ⬇︎
Straight from the vineyard
Since 2012, we have set up a wine delivery service directly from local vineyards, without intermediaries, therefore at advantageous prices for you and the winegrowers.
Participants who so wish can thus receive at home, at home, the wines they have tasted during our workshops and wine tastings.
The advantages of the Vin and Wine Club
You decide your budget.
We explain how and with what dishes to serve each of the wines.
Return the wines you don't like.
The wines are of the best quality.
The wines are sent directly from the vineyard.

So it's cheaper
Less handling for fragile wines

FREE access to a multitude of wine activities.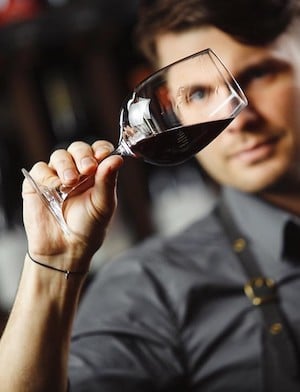 How we choose your wines
As you will see during your wine tasting, the quality of a wine is qualified by two factors:
the raw materials – in this case, the grapes
the skills of the craftsman.
This is also true for any other product, by the way.
With its unique experience, Vin and Wine has developed an algorithm that can prove the quality of a wine with precision.
It goes without saying that the wines served during your tastings are quality wines, without headaches or other side effects. This is so true that NEVER one of our 14,000+ guests/clients has ever experienced any side effects with our selection. Even the most sensitive of our patrons.
The average price of the wines included in the tasting is $18. We want to prove that the price of a wine is not a factor of quality. If you prefer more complex and crafted wines from a higher range, we have the VIP option for an additional $20 per person.
In addition, we buy our wines from the SAQ. Here again, we want to prove the accessibility of the wines that we make you taste. If you prefer wines from Private Imports, please let us know.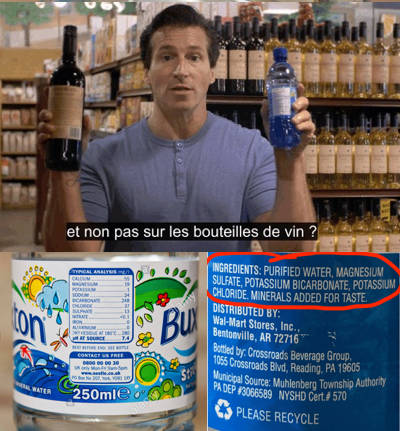 Transparency
When is the ingredient list on wine bottles?
If you like to eat to stay healthy, that has to apply to the wines you drink too. In our wine tastings, we guide your guests to wines without headaches or other unwanted side effects.

Until there is a list of ingredients on wine bottles, it will be imperative to be aware of your choices.
Awareness that will be greatly appreciated by all your guests. ❤️
An irreplaceable
bond
There is nothing better than the winemaker himself to talk to you about his ART, to tell you the story of each wine.
We would all like to have the time to fetch our own wine from the vineyard, take the time to listen to his anecdotes and taste his latest vintages.
What could be more ecological and rewarding?
Imagine making it your job, every day, a new Wine Route. 🤗 I had this privilege, not only in France, but also in 34 other countries around the world. Time spent with them allowed me to understand and experience their challenges, successes, joys, and sorrows.
It is this passion that I communicate at each of my wine tastings and events.
You are in good company
A few of the companies we've shared our Passion and Knowledge with. 🤗 🎉

Frequently Asked Questions
Why book with Vin and Wine rather than another company?
Who will lead my wine tasting?
What's INCLUDED in the price?
What will I learn during your wine tasting?
Should I take a taxi home?
What's EXCLUDED in the price?
Some emotions YOUR guests are likely to feel. 😃
Many of you have expressed your gratitude for our wine tastings, and we are very grateful. This allowed us to adapt our events to your expectations. 🤗
A few words that have been most often used to describe our work:
50+ Wows, 12 Fantastic, 15 Amazing, 209 Great, 300 Exciting, 100 Loved, 249 Excellent, 14 Awesome, 126 Relevant, 185 Informative, 900 "Very Interesting" and much more….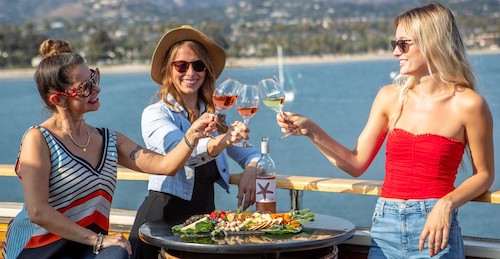 Mélanie Tremblay
Get together
"WOW! Thank you for bringing our ignorance to light with simplicity, and imparting the best skills with passion. Very interesting, memorable!"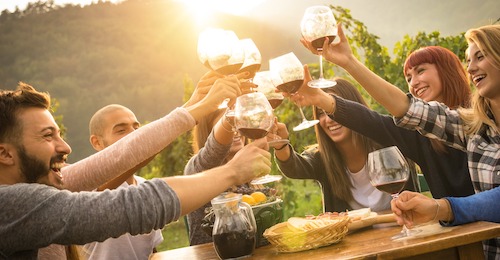 "It's more than just a wine tasting event. It's a rich culture where you have the opportunity and pleasure to sit with amazing hosts and other guests like you. Wine tasting n t was just the beginning. Experiencing new artistic wines not readily available to the public, Dany brings more than wine. One of the most memorable experiences you will have with an informative session and friendly conversational dinner. We had the opportunity to develop a solid foundation of the basics of wine tasting. By learning the proper techniques to evoke all of your senses, you will truly be amazed. Dany's passion radiates throughout the event and creates an ambience positive for the evening. With laughter and pleasant memories, this is truly an experience not to be missed. Unfortunately, my words still pale in comparison to the experience I had. Thank you for doing what you do, you do it very well. Thank you Dany".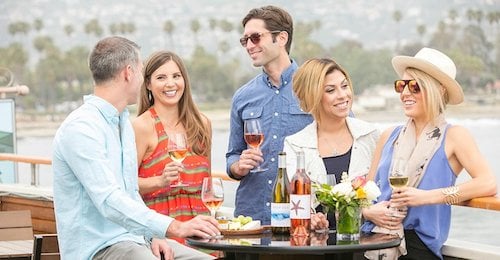 "I would like to share my experience at Vin & Wine. My lack of knowledge and appreciation of wine is what first interested me in this event. My expectations were simple: at the end of the evening, to leave knowing a little more about how to appreciate wine. Not only did the whole experience exceed my expectations, but I came away learning not only to appreciate certain aspects of wine, but more importantly, to use wine to complement your way of life. I am very grateful to have been able to participate in the event, I would recommend it to everyone, from beginners to advanced, and I am certainly interested in attending another similar event. Thank you Dany"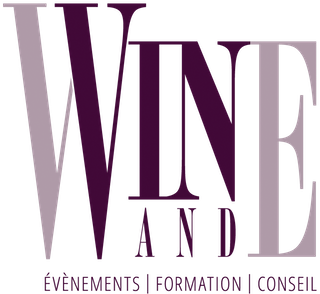 Long story short…
Vin and Wine started in 2011, in my kitchen in St-Lazare, in the western suburbs of Montreal. Fresh from France, I was tasting the wines from my cellar, which I had brought with me from Europe.
To the amazement of my neighbours, it was clear that they did not know what wine was. The delicious nectar I taught them to savour had nothing to do with the wines they were used to.
My initial idea was to be a "private importer". However, it is clear that my stories and my knowledge were more exciting than the business model imposed by the state company, meaning the SAQ.
So I placed a few advertisements for workshops and wine tasting, and it was an immediate success. I hosted 4 to 5 wine tastings a week all over Quebec. Often two on the same day. 🤷🏼‍♂️
In short, the formula is very popular and today, after more than 1000 workshops, it is the "perfected" version that you will benefit from. 🤗

Cheers !
In French, "Cheers" translate to "À Votre Santé"! Meaning "To Your Health". For Vin and Wine, it's more than just an expression. "To your Health" is our "raison d'être", the reason why we do what we do, what motivates us to carry on.
The "tech wine" drinkers, in other words, the "Ménage à Trois", Fusion and Barefoot of this world, are unknowingly ingesting over 700+ chemicals, used to make these so call "wines". It's like smoking 10 cigarettes a day. Your body adapts to it, but, like smoking, prevents you from living a fully healthy life.
Once informed of the consequences on their health, the vast majority of wine consumers change their purchasing and consumption habits. All it took was an initiative of information, of awareness, thanks to you, who are reading these lines and want an event that will improve the health of your guests for the rest of their lives. ❤️😊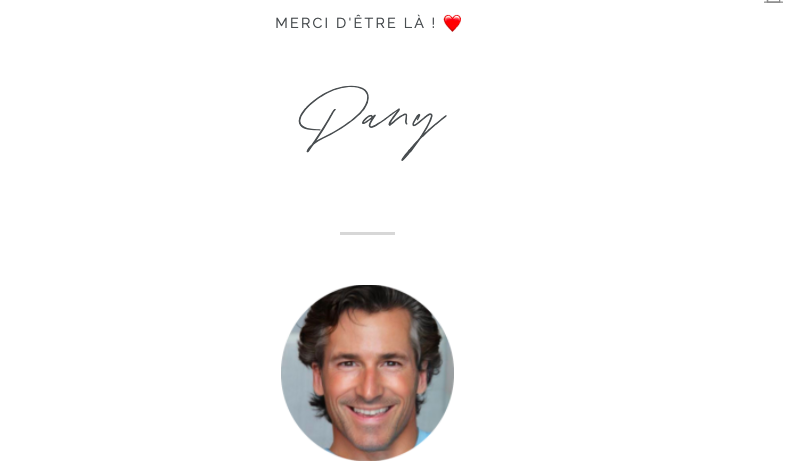 Stay inform with our latest offers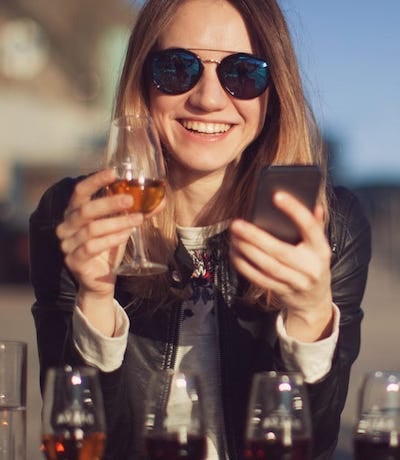 To receive our latest offers